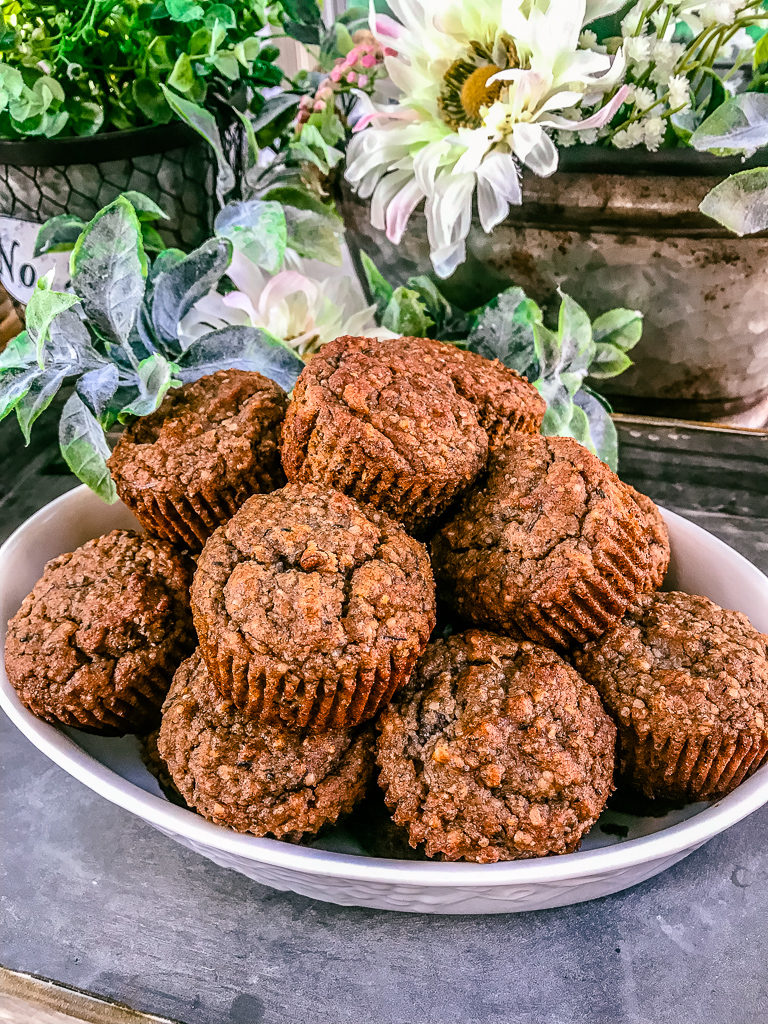 I'm a lover of any and all banana baked goods. Banana bread, muffins, cake, cookies, you name it and I am a fan! Bananas add the perfect natural sweetness to recipes so that you don't have to include added sugars, which upset my tummy, making these muffins just perfect. These are a great snack to have on hand for those busy days when you're on the go or just want a tasty snack to satisfy that sweet tooth.
Being in college and constantly busy, I'm always looking for make-ahead snacks like these. I usually double this recipe and make enough to freeze and have on hand for a few weeks at a time. I'll store them in the freezer, then in the mornings I'll pull one out and it'll be thawed and ready to eat by the time I'm ready for it. I also love to heat these up and add almond butter on top of them. It makes them the perfect night time snack that fills me up and tastes oh so delicious. I'm someone who always has to have some sort of snack before I go to bed because I will NOT be able to sleep if I am even slightly hungry. I know some people do well with not eating after dinner, however I am not one of those people. My tummy needs to be full and happy when I lay down to sleep! That's another reason I love these, they are packed with protein and fiber that keep me full. The chia seeds add plenty of fiber while the hemp seeds and collagen add a nice bit of protein to each muffin. Nothing like a healthy AND yummy muffin!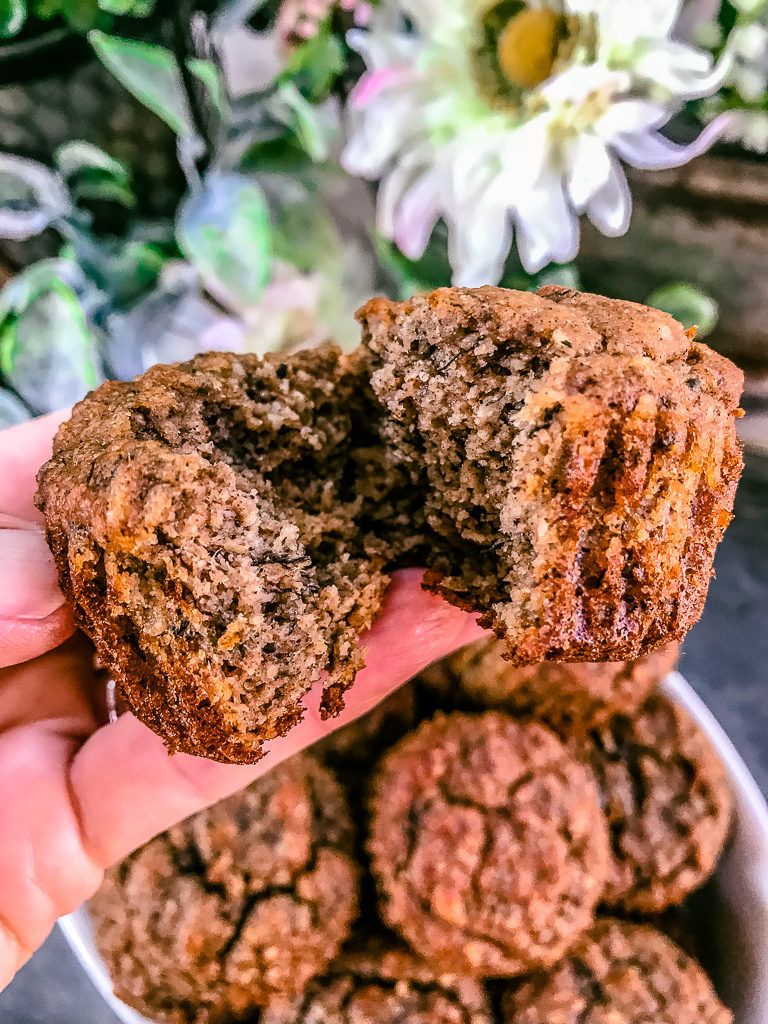 These muffins are super moist and are not crumbly at all. A lot of times I find that paleo baked goods can have a strange texture, but not these. These are also low-FODMAP with the use of tigernut flour instead of coconut flour which is an added bonus for those with gut issues. I've had them both ways and can confirm they are equally as delish! I highly recommend you whip up a batch of these muffins; they are something the whole family will love! Or, you can keep them to yourself, like me, because they're too good to share. Enjoy!
Paleo Banana Chia Protein Muffins
These paleo banana chia muffins are the perfect healthy snack that taste delicious and full of gut-friendly and nutritious ingredients!
Ingredients
Dry Ingredients:
1 ½

cup

almond flour

4

tablespoon

tigernut flour

4

tablespoon

chia seeds

½

teaspoon

salt

4

tablespoon

hemp hearts

2

tablespoon

collagen powder

or any protein powder of choice

½

teaspoon

cinnamon

1

teaspoon

baking soda
Wet Ingredients:
2

large

ripe bananas

mashed

2

large

eggs

2

tablespoon

coconut oil

melted

1

teaspoon

vanilla extract

4

tablespoon

almond milk

or non dairy milk of choice
Instructions
Preheat oven to 350°F. Line the muffin pan with liners and set aside.

In a large bowl, combine the dry ingredients.

In a separate bowl, combine the wet ingredients, except for the coconut oil.

Add the wet ingredients to the dry and mix until well combined and then mix in the coconut oil.

Spoon the batter into the muffin pan and bake for 18-20 minutes or until a toothpick comes out clean. Let cool and enjoy!