I'm someone who is always on the hunt for snacks that I can meal prep and have on hand in the freezer ahead of time. These muffins are the perfect addition to my freezer stash! I love to bake up a large batch of these and keep them in the freezer to enjoy throughout the week(s). You can also whip these up for a party or just to enjoy in the next few days! They're the perfect lil' snack with a protein punch added in there.
Pumpkin is hands down one of my top favorite flavors. Just SO GOOD. No matter the time of year, I will be eating pumpkin flavored things. Why limit this delish flavor to only the fall season?! You can find pumpkin muffins, bread, ice cream, coffee, and anything in between in my house all year long. I've always loved pumpkin pie, but it wasn't until I started getting more into baking that I realized how much I truly enjoy this flavor. I was really missing out until then!
Collagen is one of my new favorite supplements due to the plethora of health benefits it has. It's great for hair, skin, nails, joints (why am I just discovering it?!), and so much more. You can buy the classic collagen that is usually tasteless and that tends to be what I add to my baking, however, they now sell flavors like chocolate that would also be great for baking. I love to use Further Food collagen and that's what I added in these muffins. You can't actually taste the collagen but still get all of the benefits. I highly recommend you go whip up a batch of these grain free, healthy, and protein-filled bites! Enjoy!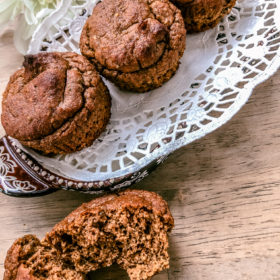 Paleo Pumpkin Protein Muffins
These easy pumpkin muffins are a delicious way to sneak in some protein. The collagen adds so many health benefits to these little bite size snacks. Not only are they delicious but they're also grain-free, refined sugar free, and packed with nutrients! Enjoy!
Equipment
Blender or food processor
Ingredients
Wet Ingredients:
½

cup

pumpkin puree

½

cup

smooth almond butter

1

medium

banana

1

large

egg

1

teaspoon

vanilla extract

2

tablespoon

maple syrup
Dry Ingredients:
¼

cup

almond flour

2

scoops

collagen peptides

I used Further Food

2

tablespoon

coconut flour

1

tsp

cinnamon

½

teaspoon

ground ginger

½

teaspoon

ground nutmeg

½

teaspoon

baking soda

½

teaspoon

salt

omit if nut butter is salted

2

tablespoon

chia seeds
Instructions
Preheat oven to 375°F and line 24 mini muffin pan with liners.

In a blender (or food processor), combine all ingredients until the batter is completely mixed and smooth.

Using a spoon or scoop, scoop batter into the muffin pan. Bake for 20 minutes or until a toothpick comes out clean. Enjoy!